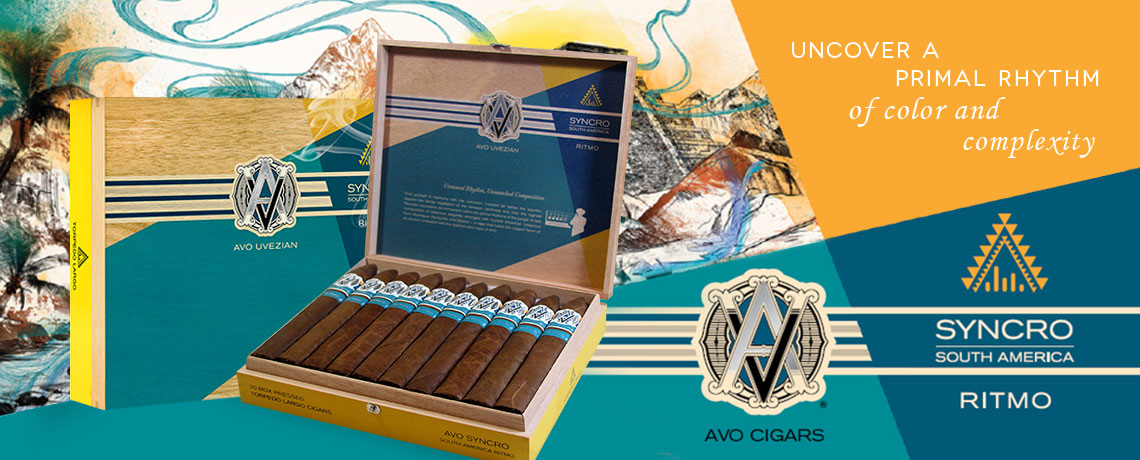 Avo Syncro Ritmo Cigars
Cigar connoisseurs know that tobacco from Ecuador has a distinctly different flavor than tobacco from Nicaragua or Brazil. This is why when we introduce a cigar, we almost always specify the country of origin of the tobacco. That just isn't possible with the AVO Syncro Ritmo, simply because the tobacco doesn't originate from a single country.
The best possible description for the AVO Syncro Ritmo tobacco would be South American. That is because the tobacco is a blend that astonishingly includes tobacco from five different South American and Central American countries. For those keeping tabs, those five countries are Nicaragua, Brazil, Peru, Honduras, and the Dominican Republic. Continuing with the multicultural theme, the cigar also has an Ecuadoran wrapper and a Mexican binder.
How well do these five unique flavors combine? We encourage you to discover for yourself, but our opinion is that they are a sublime combination. The opening draw unleashes a strong mix of black pepper and roasted nuts. With five different flavors of tobacco competing, it is nearly impossible to list all the flavor notes that pop up towards the middle of the stick, but it is safe to say that you will be impressed with how earthy and spicy it is. As a nice treat, it ends with a creamy cocoa flavor that feels like a light dessert after a heavy meal.
Despite the unique mix of flavors, this very much feels like an every day of the week cigar. We can see ourselves enjoying it as much on a lazy Sunday afternoon as after a hard day of work. It is just high end enough that we will probably save most of the box for holidays, but occasionally sneak one in on the weekends just for fun.


Strength: Medium to Full
Wrapper: Ecuadorian
Origin: Nicaragua