Posted by Corona Cigar Co. on Nov 2 2016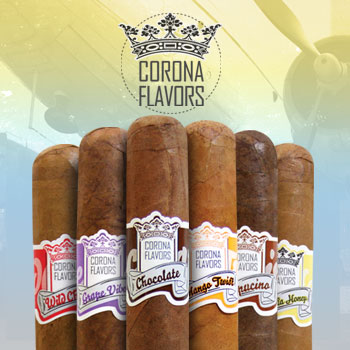 Why Not Tease Your Palate this Spring With Corona Flavors' New Cigars?
Spring is a great time for temporarily casting off the old and teasing the palate with new cigars. The good news is we've got a bunch of fresh offerings to share, starting with additions to the Corona Cigar Company's popular collection. It's just bursting at the seams with incredible tasting cigars and the latest ones are no exception. The list of the most recent flavors is all part of the Corona Flavors line. It includes wild cherry, chocolate, grape vibes, cappuccino, vanilla honey and mango twist.
The Corona Flavors line offers our brothers and sisters of the leaf an opportunity to buy single cigars and 20-count boxes of their favorite flavors. Those that are undecided on which palate pleasing taste to try first may want to start with a sampler pack, which includes all six. Each flavorful gem is made by hand with the tobacco cigar aficionados have come to love, Connecticut wrappers and Dominican long fillers. So, there is no denying that one's palate will be overjoyed with every puff. Plus, with so many tempting flavors to choose from, finding the right cigar on any given spring day should be a breeze.
Smoke Corona Flavors Wild Cherry singles while admiring those newly emerging cherry blossoms or enjoy a Corona Flavors Grape Vibes during a jaunt through the local vineyards. The chocolate and cappuccino cigars are excellent after dessert. And as for the vanilla honey, smoke one before breakfast or at the end of an exceptionally tiresome day. It's all there for your smoking pleasure. On top of that, they're affordably priced too. Each new cigar is less than $6 each and we're currently running a sale on the 20-count boxes. For a limited time only, you can pick them up for an incredible 42% discount. To learn more and add a bit of flavor to your spring activities, please contact us.