Posted by Corona Cigar Co. on May 9 2017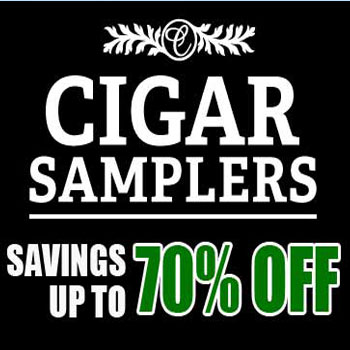 Which Cigar Sampler Will Suit You?
The image of the suave gentleman wearing a smoking jacket, holding a cigar in one hand and a snifter of brandy in the other, is eternally iconic in our minds. It is the ultimate symbol of power, wealth, and refinement.
Okay, you're probably not going to walk into your neighbor's drawing-room and encounter him leaning against the mantle, offering you a stogie. This is a little antiquated by today's standards.
However, it is still common practice to enjoy a good cigar during times of celebration. From sealing a business deal to announcing the birth of your child, a cigar showcases a pride in your accomplishments.
If you are new to the world of cigars, the number of choices can be intimidating. Do you prefer a strong or a mild flavor? How about spicy or sweet? Does the time of day or your current activity affect your preference?
Lucky for you, Corona Cigar Co. offers a large variety of cigar samplers. This allows you try several different types of cigars without having to make a commitment to something you have never tried before. Here are just a few examples of the Cigar Samplers we offer:
If you enjoy a nice, relaxing cup of flavored coffee in the middle of the day, this may be right up your alley. You'll receive 10 high quality Corona Flavors cigars. Five chocolate flavored and five cappuccino flavored. The aroma is intoxicating.
If you're wanting to try something a little more gentle, this is a fantastic choice. The Connecticut wrapper ensures a more mild flavor. This sampler pack changes regularly, so check back often to see what surprises we have in store.
Here at Corona Cigar Company we pride ourselves in the wide variety of premium brands we carry and Altadis is one of our customer's favorites. Our Altadis Six Pack Sampler offers three of their top blends. This sampler currently includes: 2-Monte by Montecristo2-Romeo y Julieta Reserva Real2-H. Upmann Banker. That's six premium cigars in all for one low price.
We have dozens of different types of cigar samplers to choose from. There is sure to be one to interest you. If you have any questions, please feel free to contact us today and we will be more than happy to help you find what you are looking for.