Posted by Corona Cigar Co. on Nov 2 2016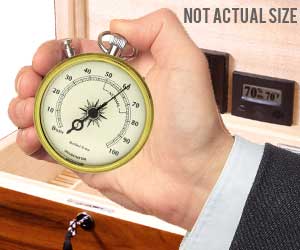 When is My Humidor Too Full?
If you love smoking cigars, then you know that having quality humidors is an essential component to being able to enjoy smoking cigars. Humidors store your cigars at the perfect humidity levels for them to stay fresh and delicious. If you want to have a stock of cigars on hand to enjoy whenever the mood strikes you, it is important that you have a humidor to store them in.
However, you may find yourself wondering just how full you can keep your humidor. Will it damage the cigars to sit on top of each other? Is it better to leave some extra space in your humidor? All of these are excellent questions.
The simple answer is that as long as your humidor can properly close it is not too full. You can fill your humidor to capacity and have no problems. In fact, the more full your humidor is, the better it will be able to regulate the humidity when you open and close it. It is best to only open the humidor in order to add to your collection or remove for smoking.
If your humidor is in need of a few more cigars to help fill it up, please contact us. We have an incredible selection of cigars at really amazing prices. Each cigar we sell is rated from mild to full, so you know what to expect. Stock up with a variety now, and keep a record of your favorite cigars, so you know which ones to re-order the next time your humidor is starting to look a little empty.