Posted by Corona Cigar Co. on May 8 2017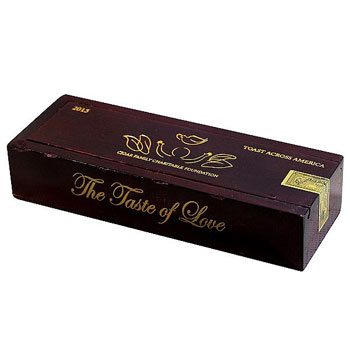 This cigar sampler offers you good cigars for a good cause.
"Everything looks nicer when you win. The girls are prettier. The cigars taste better. The trees are greener." - Billy Martin
How would you like to try 2 unique cigars and come out a winner? This Family Charitable Foundation 2015 Box Set Cigar Sampler contains two amazing cigars not available outside this set. They are both in the famed "shark" size and the net profits go to charity.
You will receive a Diamond Crown Julius Caeser Shark cigar. This medium to full bodied cigar has an Ecuador Havana-seed wrapper around a Dominican binder and features an eclectic mix of Caribbean basin and Central American fillers. The cigar tastes of rich coffee, sweetness, spice, and wood.
The other cigar in the sampler is the Opus X Shark, this too is a medium to full cigar. The Opus X made from vintage Dominican long fillers and binder tobaccos wrapped in a natural Dominican Habano wrapper. The flavor is roasted nuts and hints of wood, a bit of spice and a leathery flavor, with a definite creaminess throughout.
The cigars are in a coffin box marked with both the name of the charity and with Toast Across America which are events held across the country to raise funds for the charity.
The Cigar Family Charitable Foundation, created in 2001, by the Newman and Fuente cigar families is a non-profit which has built two schools, a medical clinic, sports facilities and created organic farming areas in the Dominican Republic. The association between the Newman and Fuente cigar families began in the 1980s and is a successful premium cigar manufacturing and distribution combination in the Dominican Republic. Through the charity, the families are giving back to the country which has given them so much.
Purchasing the Family Charitable Foundation 2014 Box Set Cigar Sampler is a win-win situation. The charity gets a donation and you get two great cigars. Contact us for more information on this cigar sampler or any of our other fine cigars.