Posted by Corona Cigar Co. on Nov 2 2016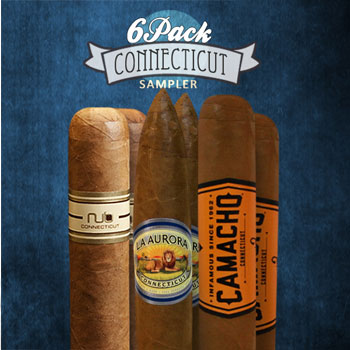 The Connecticut Cigar Sampler
Tobacco growth in the Connecticut River Valley has a history that stretches back to before European settlers even arrived in the region. The rich, loamy soil, and the short, hot summers made it a wonderful location for the production of high-quality leaves.
In the 19th century, as cigars became increasingly in demand, the growers in Connecticut experimented with new leaves and growing techniques to stay competitive with Cuba and Asia. It was apparent that broadleaves grown in the river valley were excellent for wrappers, and it was for these which the region became known.
The biggest breakthrough came at the dawn of the 20th century, when Connecticut farmers developed "shade tobacco". This is typically a Sumatran hybrid leaf grown under a tent which cuts sunlight and increases humidity. The result was a silky-smooth golden leaf destined to dominate the cigar world.
Former president of General Cigar Co., Daniel Nuñez, once described Connecticut Shade as "the best wrapper leaf on the market today." And there seems to be a general consensus that he was right. It is thus that most manufacturers of cigars offer products with shade wrappers. It has been described as sweet, mellow, and prized for its ability to really highlight the flavor profile of the tobacco within.
We offer a Cool Connecticut Sampler that features three different brands, all wrapped in Connecticut Shade. These will allow you to compare and contrast how the wrapper affects different tobaccos.
Cigar samplers, in general, are a great way to sample various kinds of cigars and really learn the differences between brands, leaves and wrappers. Contact Corona Cigar Co. if you have any questions at all.