Posted by Corona Cigar Co. on Mar 17 2020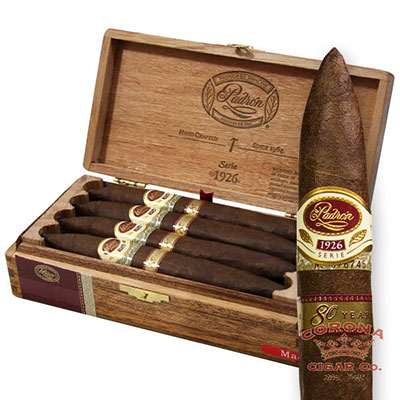 Padron 1926 80 Year: A Premium Cigar Lover's Dream Come True
Having been represented in the top 10 on the annual Cigar Aficionado Top 25 Cigars list every year that the list has been published, Padron is a company that clearly knows how to make a great cigar. Sitting near the top of the company's line is the Padron 1926 80 Year, a cigar made to commemorate the birth of company founder and cigar world legend Jose O. Padron in 1926. Here's what you need to know about this exquisite offering from Padron and why you should try it if you haven't already.
Construction and Specifications
Available in both a natural and maduro wrap, the Padron 1926 80 Year comes in a single box-pressed figurado vitola that measures 6.75 inches long with a ring gauge of 54. In classic Padron fashion, this cigar's blend is made up exclusively of the finest Nicaraguan tobaccos. As with the rest of the 1926 series, all leaves used in the 80 Year anniversary edition are aged for at least five years to give them the optimum flavor and smoking properties.
Smoking Notes
When smoking the Padron 1926 80 Year, you'll be treated to a blend of cocoa, coffee, leather and earth notes that has come to define Padron as a company. Spice notes emerge as a major component of the cigar early in the first third, but quiet down to a more subtle level fairly quickly. In the maduro-wrapped version, you'll also get hints of sweetness and more intense earth notes thanks to the fermented wrapper leaf. Owing to the extreme attention to detail Padron pays in the construction of these cigars, you'll experience a razor-sharp wrapper burn and a firm ash that holds well as you smoke.
If you've been looking for a super-premium cigar to add to your humidor, the Padron 1926 80 Year is a smoke that won't disappoint. Consider grabbing one of these excellent cigars as a special occasion smoke or just as a treat for yourself. If you're looking for more great cigars, you can also get in touch with Corona Cigar Company for all your smoking needs.