Posted by Corona Cigar Co. on Nov 2 2016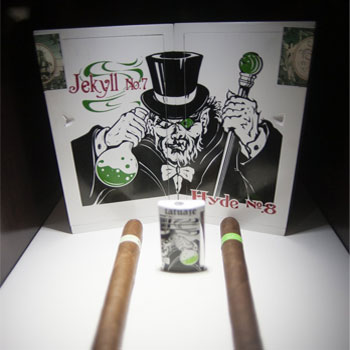 Jekyll and Hyde Lights Up Skinny Monsters for Halloween
The trick to celebrating Halloween this year are cigars that will treat your taste buds. Corona Cigar Co. has Skinny Monsters to treat you for Halloween and a special trick to help you enjoy them.
Tatuaje Skinny Monsters Limited Edition Cigars are part of the popular Tatuaje Monster series and the 2016 follow up to the 2014 Tatuaje Pudgy Monsters. Only 10,000 sampler boxes are available. There are ten Skinny Monster cigars:
Tatuaje Skinny Monsters Tiff is based on of a character from the horror movie Child's Play. The Tiff has notes of cedar and citrus as well as a slight cream and pepper flavor.
Tatuaje Skinny Monsters Chuck is also based on a character from Child's play. Chuck's flavor is cherry cream combined with wood notes.
Tatuaje Skinny Monsters Frank has a strong peppery spicy flavor. It has hints of espresso, mint, and chocolate.
Tatuaje Skinny Monsters Drac is a medium flavored cigar that tastes of chocolate and walnut with a hint of spice.
Tatuaje Skinny Monsters Jekyll is a mix of red and black pepper with fruity cedar sweet spice notes.
Tatuaje Skinny Monsters Hyde offers flavors of dark chocolate, bitter espresso, creamy cedar, leather, and sweet nutmeg.
Tatuaje Skinny Monsters Face starts with a strong peppery flavor and then adds notes of creamy caramel and chocolate.
Tatuaje Skinny Monsters Wolf is a complex blend of flavors from pepper to nuts to a creamy vanilla.
Tatuaje Skinny Monsters Mummy has strong notes of coffee throughout with hints of chocolate and bourbon.
Tatuaje Skinny Monsters Jason tastes of chocolate and brown sugar with notes of pepper and coffee.
The trick to lighting these skinny monsters is the S.T. Dupont Maxijet Tatuaje Dr. Jekyll & Mr. Hyde lighter. This lighter comes in a variety of colors and has a side bar ignition. It is a wind-resistant torch flame that is ergonomically designed to fit perfectly in your hand and is guaranteed to light even the largest of cigars.
Please contact Corona Cigar Co. to treat yourself to Tatuaje Skinny Monsters or any other fine cigar we offer. Be sure to ask about our lighters and other accessories we have available to treat you to a greater smoking enjoyment.