Posted by Corona Cigar Co. on Nov 2 2016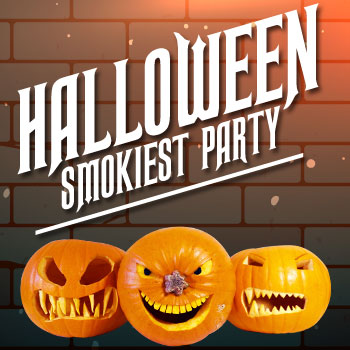 Halloween Cigar Event and Spooky-Named Cigars and Samplers
On Saturday, October 28, Corona Cigar is hosting the smokiest party of the year – a Halloween Event, cigar lovers are going to scream about! But, for our friends all around the county, we have a lot of spooky-friendly cigars to celebrate the holiday.
The Gurkha Ghost Shadow and Ghost Exorcist Cigars have a complex pallet of flavors including cinnamon and cocoa and are made in the Dominican Republic by top skilled craftsman. The Ghost is perhaps the most favored of the Gurkha offerings. It is a medium flavor cigar and rated a 93. Brazilian, Dominican and Nicaraguan leaves are blended and wrapped in a Brazilian Arapiraca wrapper. The difference between the Shadow and Exorcist, is the size.
The bouquet of flavors in the Ashton VSG Wizard Cigar include dark chocolate, cedar and earth. Not for the faint of heart, or pocketbook, this is one of the world's top rated cigars! Full flavored, the best four-to-five year aged Dominican tobaccos are used, wrapped in exclusively grown Ecuadorian Virgin Sun-Grown wrappers. The Ashton VSG Wizard tobacco is grown on Chateau de La Fuente for this particular label.
Our very own exclusive Midnight Sampler is designed to celebrate this ghoulish time of year! This sampler features Don Pepin Black Label Cuban Classic and Undercrown Gran Toro cigars. The Black Label Cuban Classic is full bodied, flavored with leather, earth and pepper. All Nicaraguan tobacco is used with a Corojo wrapper. The Undercrown Gran Toro is also full-bodied cigar, creamy with a subtle spice and earthy tone. Again a Nicaraguan tobacco enclosed in a San Andres Maduro wrapper.
These are just a few top cigars we offer; they happen to have common names with Halloween. They are not necessarily named for the holiday specifically – we have chosen to affiliate them because of the holiday. You may want to share one of these, or another favorite, with the trick-or-treat dads who come calling, or specifically with some of your good buddies.
Give us a call – we're always happy to discuss cigars!