Posted by Corona Cigar Co. on Nov 2 2016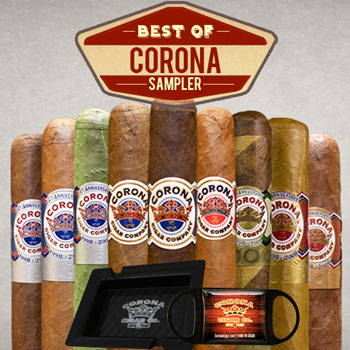 Find Your New Favorite Flavor with One of Our Cigar Samplers
You decide one night that it is time for a change. You've been a loyal person your entire life, but now, doggone it; it's time for a change. You think about the strong and fuller ones that your friends might enjoy. Or perhaps you prefer shorter and thicker and milder. You're not sure what kind of change you want, and you're not sure how to find out what it is that you're looking for. Do you just go out on the street and hope to find a good alternative to what you have? Do you read about different tastes and varieties online? Then it hits you, try one of the Corona Cigar Co.'s samplers.
You can order cigar samplers in 6 packs, 7 packs, 10 packs, and even more. Some samplers like the PDR Cigar Sampler even come with an ashtray and a cutter, as well as a great handful of cigars. Almost as great as the variety of cigars you'll get to experience is the amount of money you can save when you order a cigar sampler from Corona Cigar Co.
One of our very popular exclusive house samplers is The Best of Corona Cigar Sampler. This sampler includes 9 of the most popular house brands that Corona Cigar Co. sales, and now, the sampler also comes with a free Corona ashtray and cigar cutter. Plus, with this sampler, you can save 50% off the retail price.
Another popular sampler is the 6 pack Altadis Cigar Sampler. Popular all around the world, at the Corona Cigar Company, this is one of the most popular samplers we offer. There are six cigars, and three different flavored cigars. Although the sampler flavors can change, an example is two Monte cigars by Montecristo, two Vega Fina, and two RYJ by Romeo.
If you think you want to find a new favorite cigar, or you want to add a new favorite, a sampler pack is a great way to find a new cigar. Usually sampler packs have a nice reduction in price, so not only do you get quality and great tasting cigars that will give you a chance to try different cigars, but you can usually save money while you try new blends.
Once you find a new brand and new flavor of cigar, Corona Cigar Company will also be able to fulfill your future cigar orders. Contact us at our website to see all of the varieties of great cigars we have to offer.