Posted by Corona Cigar Co. on Nov 2 2016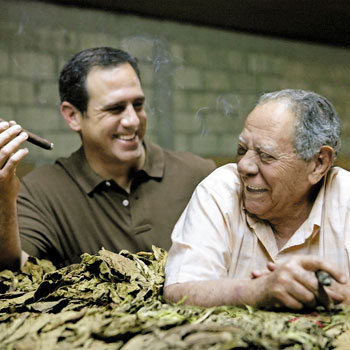 Buy Cigars to Share with Dad on Father's Day
It's almost June which means that summer is finally in full swing, and you have BBQs and days at the pool to look forward to. June also means one other thing, which is that Father's Day is just a few weeks away. Father's Day is always celebrated on the third Sunday in June, but that means the date changes every year. So, this year Father's Day will be celebrated on Sunday, June 21st.
Now that you know, you have plenty of time to pick out a gift your dad will really enjoy. There's no excuse for scrambling and ending up giving him another lame tie, or some expensive, high-tech gadget he doesn't really care about.
Your dad wants to spend time with you, so why not choose a gift you can enjoy together? When you buy premium cigars online, you and your dad can spend Father's Day enjoying a cigar. If you're feeling generous you can buy enough cigars for your siblings to join in the fun as well. If you're not sure what kind of cigar your dad likes, you can take a look at our Cigar Gift Ideas page or purchase a sampler that will allow you to try different kinds.
Davidoff, Diamond Crown and Padron are other excellent choices for the perfect gift idea.
Another alternative is a selection of premium cigar samplers.
While you're enjoying your cigars, take note of the ones your dad likes best and you can reorder just that brand of cigar for the next big occasion you celebrate together. For more information on how simple and affordable it is to purchase cigars online, please contact us.