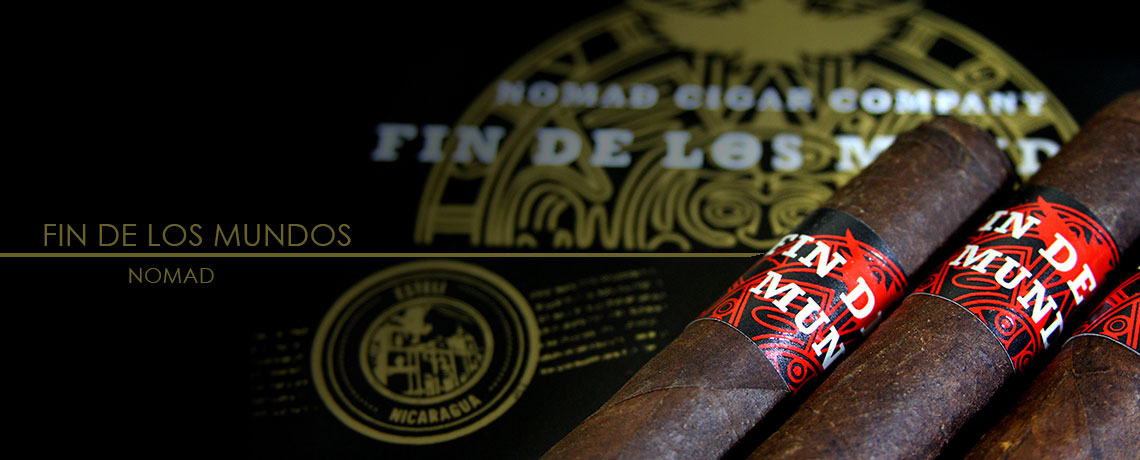 Nomad Fin de los Mundos Cigars
Fred Rewey, Owner of Nomad Cigars, has created some of the finest cigars in the industry which has helped to make Nomad one of the most sought after brands on the market. The new Fin de los Mundos has helped to solidify that position. Nomad Fin de los Mundos is a medium to full-bodied smoke with tons of flavor and complexity. These premium cigars come with a Dominican/Nicaraguan/Pennsylvania filler, Nicaraguan binder, and a gorgeous Pennsylvania Broadleaf wrapper. When you light up a Fin de los Mundos from Nomad, you'll experience wonderful notes of cream, leather, and coffee. If you're looking for a complex yet smooth smoke then try out the Nomad Fin de los Mundos cigar today!
Nomad Cigars Fin de los Mundos are available in four sizes: Corona Gordo (5 1/2" x 48), Robusto (5" x 50), Shorty (4" x 54), and Toro (6" x 50).


Strength: Medium
Binder: Nicaraguan
Filler: Dominican, Nicaraguan, & Pennsylvania
Wrapper: Pennsylvania Broadleaf Maduro
Origin: Nicaragua