Check Out Our Latest Cigar Five Pack Deals
06/05/2018 at 08:46 am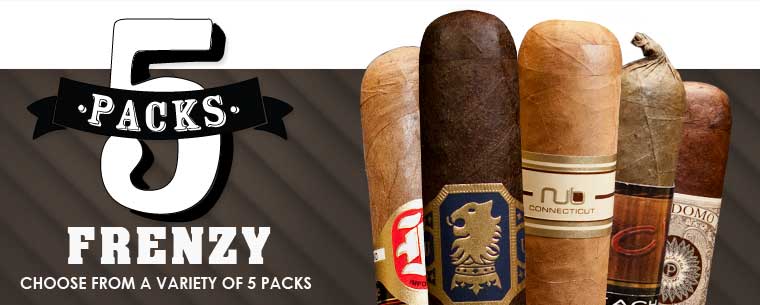 At Corona Cigar Company, we pride ourselves on offering you the best cigars at deeply discounted prices. Want to try a couple of sticks without committing to buying a whole box? Don't worry, we've got you covered. We offer some great deals on cigar five packs so you can try new brands or stock up on your favorites. You can browse through some of our latest deals below.
1. CAO Italia Ciao Cigars (5 X 56) - 5 Pack
The CAO Italia Ciao Cigar features exclusive Habano tobacco which originated from southern Italy. Grab this five pack now if you enjoy sweet tasting medium to full-bodied cigars. Right now they're available for $19.95, which is 45% its original price of $36.23.
2. Acid Kuba Kuba Sumatra Cigars (5 X 54) - 5 Pack
Now you can get five Acid Kuba Kuba Sumatra Cigars for one low price! This Nicaraguan cigar has a medium body strength and has received rave reviews from our customers. Get them now at the discounted price of $24.95.
3. Natural Dirt Torpedo Maduro Cigars (5 X 52) - 5 Pack
The Natural Dirt brand From Drew Estate is a favorite among many cigar lovers. Named after the dark soil found in Pueblo Nuevo, Nicaragua the cigar is wrapped with Connecticut Broadleaves and has a strong blend of coffee and wine flavors. The Natural Dirt Torpedo Maduro Cigars is available today at 23% off for only $24.95
4. Boris 11 Connecticut Cigars (5 X 50) - 5 Pack$80.00 $29.95 63%
Another popular five pack we have available is the exclusive Boris 11 Connecticut Cigar. Handmade with aged Cuban and Dominican tobacco, it has a mild to medium strength and hails from the Dominican Republic. This cigar is a must if your palette craves a complex and bold taste.
Please contact us for more information about our cigar five packs. If any of our deals appeal to you, buy it while you can! We update our inventory daily so make sure to check our website often for the latest deals.