A Message from the President of Corona Cigar Company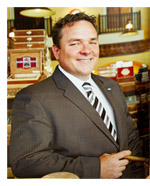 Jeff Borysiewicz
President and Founder
Corona Cigar Co.
Attention All Cigar Enthusiasts!
On February 4th, 2009 President Obama signed into law the expansion of the State Children's Insurance Health Program (SCHIP). This program provides health and dental insurance to children and pregnant mothers who do not qualify for Medicaid but cannot afford health insurance.
The SCHIP program is unfairly funded solely by tobacco taxes. To pay for the massive expansion and increased costs of the SCHIP program, Federal taxes on all tobacco products were drastically increased. Unfortunately, cigars were hit especially hard with a 700% increase in the Federal tax on cigars.
Beginning April 1st, 2009 the Federal tax on cigars will increase from 4.9 cents per cigar to 40 cents per cigar. Because this tax is levied and paid at the time of importation, this will cause all cigar prices to increase anywhere from 40 cents to $1 per cigar by the time the tax reaches the final consumers. (Consumers who live in states with high tobacco taxes may see a greater price increase at their local cigar store because the state will apply their state cigar tax to the value of the cigar AND the federal tax as well!)
On top of the tax increases, many manufacturers have raised their prices due to escalating labor costs in Central America and the Dominican Republic.
At Corona Cigar Company, we will do everything we can to continue to deliver you the lowest price possible on your cigars. We have been building up our inventory in anticipation of the tax increase so we will delay the price increases as long as possible.
On many of our own brands such as Boris 11, Corona Gold Series, Cielo, Flor de Cielo, and CAO Escaparate, we will absorb the tax increase and there will be no price increase at all.
Since many of the famous international cigar brands will have significant price increases, Corona Cigar Company's exclusive international cigars like Corona Nicaraguan Selection, Corona 10th Anniversary, Corona Dominican Selection, Corona Ranchero, El Repo and El Cheapo will be an even greater value. We will also be releasing several new lines of value priced bundled cigars to help combat the rising cost of cigars.
If you want a little history on the battle that we have been waging against SCHIP's outrageous tax increase, read on....
The original SCHIP bill presented in the fall of 2007 included a tax increase on cigars from 20.72% with a cap of 4.9 cents per cigar to 53% with a cap of $10 per cigar. The bill also included a "floor stock tax" that would have required all retailers and manufacturers to pay a 53% tax on the value of their entire cigar inventory. Needless to say, this tax would have wiped out almost every cigar retailer in America. Fortunately, President Bush vetoed the bill and House Republicans upheld the President's veto.
On the second attempt of passing the SCHIP bill, the cigar tax cap was lowered from $10 per cigar to $3 per cigar. The 53% tax rate and floor stock tax remained in the bill. Again, President Bush vetoed the bill and the House Republicans upheld the President's veto.
Before the third attempt of passing the SCHIP bill, a grass roots lobbying team including Rocky Patel, Jorge Padron, Robbie Levin, Eric Newman, Litto Gomez, Christian Eiroa, Marvin Samel, David Berkebile and I were able to convince the Senate Finance Committee to remove the fatal floor stock tax. While we were successful in educating Senators and members of Congress about the devastating effect that the increased cigar tax would have on the industry, we were unable to get the cigar tax lowered and it remained at 53% with a cap of $3. Again, President Bush vetoed the bill and the House Republicans upheld the President's veto.
Fast forward to 2008. The combined efforts of the grass roots lobbyists, the Cigar Association of America, the International Premium Cigar & Pipe Retailers Association and Cigar Rights of America were able to convince Congress to make the Federal cigar tax 52.75% with a cap of 40.26 cents. While 40.26 cents is an astounding 700% increase in the Federal cigar tax, it was the best that the cigar industry could do.
At Corona Cigar Company, we take these tax increases and anti-cigar legislation very seriously. We have committed countless hours, traveled back and forth to Washington numerous times and have made huge financial sacrifices to protect the cigar consumer's rights to enjoy a cigar. While Wall Street and banks are getting bailed out by taxpayer's money, cigar consumers, retailers and manufacturers are being burdened with one of the largest tax increases in the history of America.
Unfortunately out battle doesn't end here. The FDA wants to regulate tobacco, states want to raise cigar taxes even higher, some states want to ban mail order cigar sales, states, cities and counties are trying to pass indoor and outdoor smoking bans. Cities like Boston have gone so far as to outlaw cigar bars!
I urge you to get involved and protect your freedom to enjoy a cigar by joining Cigar Rights of America. It takes a lot of money and a lot of letters, emails, phone calls and meetings with our elected officials to stop the anti-cigar lobby. Get involved and become a member of the CRA today by joining online at www.CigarRights.org.
I make this promise to you, Corona Cigar Company is 100% committed to opposing these tax increases and will continue our relentless fight to protect the right of cigar enthusiasts to have to freedom to enjoy (and afford) a cigar.
Please help and join the fight today!
Sincerely,
Jeff Borysiewicz
President & Founder