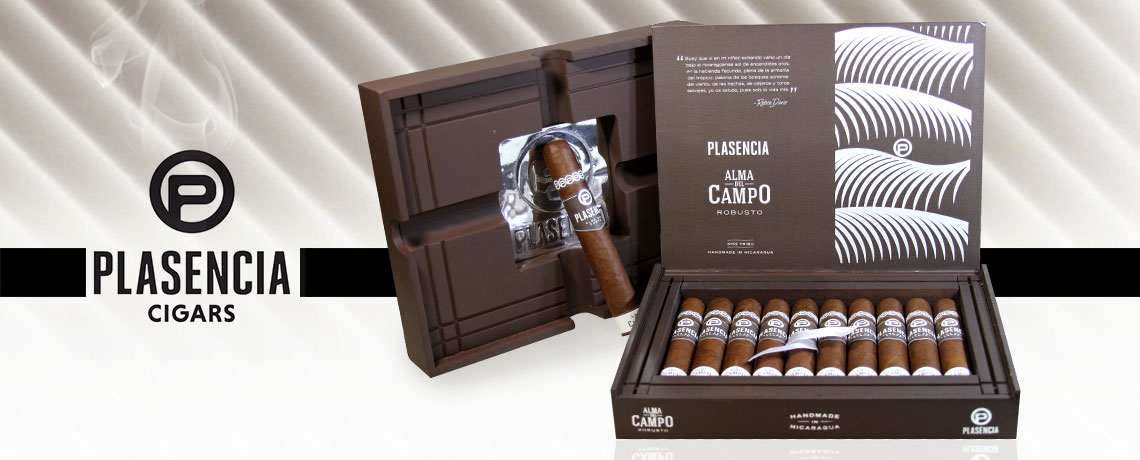 Plasencia Alma del Campo Cigars
Sometimes you just want to treat yourself to the very best in life. If that is your goal, the Plasencia Alma del Campo is an ideal way to do just that.
Second in the premium Alma line created by Plasencia 1865, the Alma del Campo is a medium strength blend of Nicaraguan tobacco that focuses on balance. This balance can be found both in the combination of flavors that define the cigar and in the burn of the cigar. The latter is quite impressive, combining a strong opening draw, a steady burn, and a long lasting finish.
As for flavor, your taste buds will still be thanking you hours after you have completed this stupendous stick. The Plasencia Alma del Campo features a robust mixture of coffee, nuts, spices, and cream. That pleasurable combination is filtered down to just rich cream with a hint of spice by the end of the cigar and echoes of this flavor merger stay with you long after the cigar has been finished.
The Plasencia Alma del Campo is a cigar that sits among the some of the best ever crafted. As such, we recommend saving this taste concoction for moments in life that most deserve celebration, like marriage or the birth of a child. Whenever you choose to smoke it, though, you will be richly rewarded for your decision.


Strength: Medium
Wrapper: Habano
Origin: Nicaragua