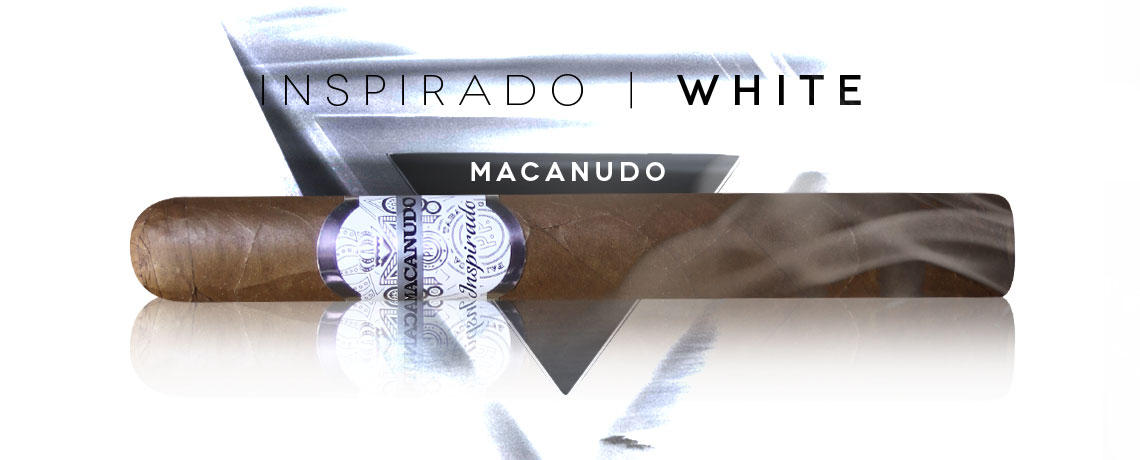 Macanudo Inspirado White Cigars
Macanudo is a brand known for making cigars that are excellent for beginners. Despite that reputation, the Macanudo Inspirado White Cigar is a pleasing stick designed for modern day veteran smokers. Packed 20 to a box, the Macanudo White combines the tastes of multiple regions to create a sublime mild to medium-bodied smoke. A 6-year old Ecuadorian Connecticut shade wrapper covers an Indonesian binder and 4-year old fillers from the San Andreas Valley, Esteli, and Nicaragua. This creates a somewhat oily cigar with few veins and a light earthy aroma.
Based on the smell of the cigar, you will almost certainly be surprised by the taste when you first light it up. Cedar and a powerfully spicy pepper dominate the initial draw. The earthiness of the aroma does eventually show up, along with a complementary creamy grass taste, but only after about half a dozen puffs, as the pepper slowly subsides. It never fully fades, though, until the final third of the cigar, when it is replaced by a surprisingly, and quite delightful, citrus flavor.
While the presentation of this cigar is rather simple, it more than makes up for that with a unique flavor combination and an incredibly solid construction. It is more than evident that this is not a beginner's cigar, but rather a staple that belongs on the shelf of any serious cigar smoker.


Strength: Mild to Medium
Binder: Indonesian
Filler: Nicaraguan and Mexican
Wrapper: Ecuadorian Connecticut
Origin: Dominican Republic