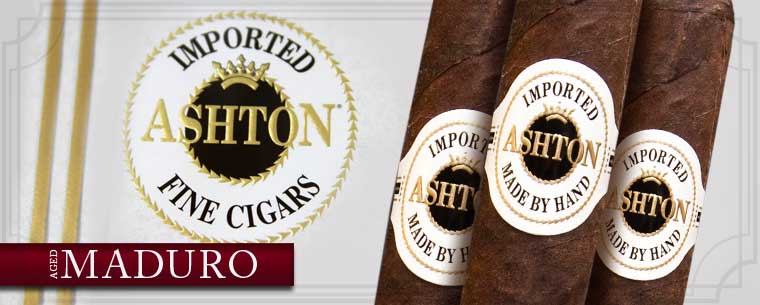 Ashton Aged Maduro Cigars
Ashton Aged Maduro Cigars are rare because of their hand selected and extremely limited Connecticut broad leaf maduro wrapper. Many a wrapper leaf are picked, but few are chosen by Carlos Fuente Jr. for Ashton Aged Maduro cigars.
The initial sweet taste comes from the wrapper, but once lit, the cigar becomes rich and nutty much like a great Madeira or Tawny Port. The Ashton Aged Maduro cigar's rich distinct flavor comes from the never hurried natural fermentation of the wrapper, which encourages its natural sweetness. The wrapper and aged filler creates a rich and complex flavor elevating the Ashton Aged Maduro cigar to a class all its own.


Strength: Mild to Medium
Wrapper: Maduro
Origin: Dominican Republic