Where Can You Keep Track of and Find Your Favorite Cigar Brands?
03/22/2016 at 11:36 am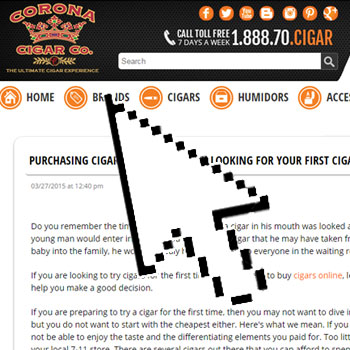 All cigar lovers have lived through the nightmare of smoking a fantastic cigar that they really enjoy, and then not being able to track down the cigar ever again. Sometimes this happens because you don't know the brand of the cigar you were smoking. Other times this happens because your local cigar shop doesn't carry the cigar you love.
We don't want anyone to ever have a "cigar that got away." If you ever smoke a cigar that you really love, we recommend that you immediately ask the person who gave it to you what kind of cigar it is. Take the time to save the information in your phone. You can even text it to yourself if you don't want to go to the trouble of keeping a special memo file in your phone with your favorite cigars stored on it.
As an online retailer, we are able to carry a larger assortment of cigar brands than most traditional cigar shops. When you get home from smoking a new favorite cigar, take a look at our website, because chances are good that we offer the cigar you want at an unbelievable price. Remember that shipping is always free with a $50 order, and when you find a cigar you love, why wouldn't you stock up?
If you're having a tough time tracking down a cigar that you enjoyed, please contact Corona Cigar Co.. If we don't carry it, we may be able to recommend a cigar with a similar flavor profile that you might love just as much.