Top 6 Cigar Samplers Picks
06/20/2017 at 09:51 am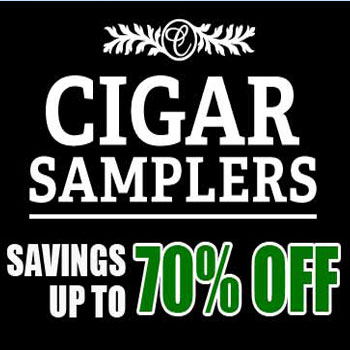 Find cigar samplers for up to 70% off on our website. Enjoy spring and summer with a variety of premium cigars to choose from. Stock up on cigars made from the finest tobacco. These make great gifts, and they also give a taste of something different. Here are seven of our best samplers to give as a present or to enjoy yourself.
La Flor Dominicana Chisel Sampler Comes in an elegant wooden box. Select from 5 cigars wrapped in Maduro. Litto Gomez provides one of our most popular cigar boxes.
Nub Cigar Sampler Gift Set With Cutter: Four of Oliva's best, Cameroon, Connecticut, Habano & Maduro, complete with a cutter in a pretty box. Nice!
Corona Rewards Gift Set: A compilation of Corona's best cigars, including Boris 11, SindicatoCorona Gold, Van 22, and Cielo. It also comes with a cigar cutter and a torch lighter.
Padron Sampler No. 88 This box of six cigars are some of the best cigars the Padron family has to offer. Comes with a 2000, 3000, 4000, 5000 and a 1964 anniversary edition cigar.
Diamond Crown Classic 4 Pack: Hand rolled in the Dominican Republic and wrapped in a Connecticut shade grown wrapper and filled with a smooth blend of Dominican Olor tobacco.
Nicaraguan Sesenta Sampler: Four brands to choose from, including The El Baton Double Toro, The Brick House Mighty Mighty, The Brick House Maduro Mighty Mighty, and The Perla Del Mar Perla TG. Each has its own flavor and nuance to savor.
Contact Us today to learn more about our cigar samplers, with great quality and even better prices. When you see our selection you will want to buy them all!