Posted by Corona Cigar Co. on Nov 2 2016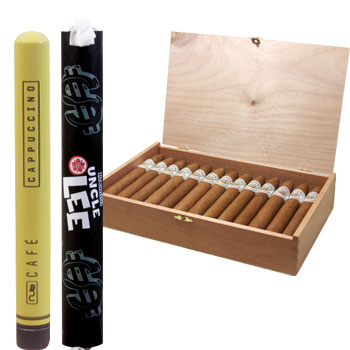 Three Premium Choices to Consider for New Cigars
Are you a cigar aficionado who is tired of the same old traditional cigar smoking experience? Sure, everybody likes a classic or a peaceful encounter with their favorite brand, but once in awhile you just want something a little new and different. It's human nature really.
Not only is it likely that you will discover a new brand that you truly enjoy, but it's also nice to be the first of your friends and family that realizes a new brand, flavor, or style that really leaves a favorable impression. If it's something new and different you are looking for, consider the following three premium choices for new cigars to add to your smoking rotation.
Nub Cafe Cappuccino Tubo Cigarillos – Coffee and cigars go together to form a decadent and satisfying experience unlike any other. This brand of flavor-infused smokes features the wonderful richness of drinking premium coffee without any bitterness. Add a premium blend of tobaccos and you get the perfect desert cigar.
Room 101 Uncle Lee Cigars – A complex and full bodied smoke that is well suited to the serious cigar smoker. These cigars are distinctively wrapped from head to toe and feature an equally distinctive large size. Try these unique smokes if you truly are looking for something different.
Corona Gold Torpedo 600 Natural Cigars – For the cigar lover that appreciates luxurious smokes in a milder flavor, this premium brand is sure to please with its aged blend of Dominican fillers and Connecticut Broadleaf wrapper. It is elegantly finished off with a Cuban inspired triple cap for extra individuality. You will notice a variety of smooth flavors absent of any bitterness for a very enjoyable smoking experience.
Corona Cigar Co. is an excellent online resource for new cigars, as well as traditional favorites. We also offer an abundance of outstanding humidors and accessories. Contact us today for more information.