The Top Cigar Five Packs under $20
10/24/2017 at 08:14 am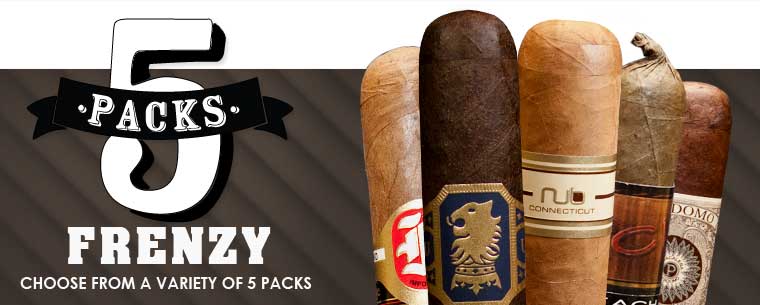 Do you want to stock up on your favorite smokes but don't know where to go? Don't worry, we've got you covered! Here is a look at our awesome selection of Cigar Five Packs - all for under $20!
1. Oliva Connecticut Reserve Cigars (5" x 50) - 5 Pack
One product we currently have on sale is our Oliva Connecticut Reserve Cigars. We're selling the five pack for just $17.95, which is a 43% discount from its original retail price of $31.25. The Nicaraguan cigar has a rich and smooth flavor. Its golden brown wrapper is made in Ecuador.
2. CAO Gold Natural Cigars (5" x 50) - 5 Pack
Voted one of the best cigars by Cigar Aficionado Magazine, you can now get a five pack of CAO Gold Cigars. The mild hand-made cigars are originally from Nicaragua and feature a Connecticut Ecuadorian wrapper. Now is a great time to buy this five pack for $19.95 and enjoy a 33% discount.
3. NUB Cameroon 460 Cigars (4" x 60) - 5 Pack
Our Nub Cameroon 460 Cigars are also available online for 33% off its original price for just $19.95. Although this cigar is smaller than other brands, it packs the same amount of tobacco as larger cigars. The full-bodied Nicaraguan cigar has a Cameroon wrapper and seeds from Connecticut. Nub generally carries a unique blend of long fillers and binders from Nicaragua.
To learn more about our selection of Five Packs, please Contact Us today by sending a quick email to info@coronacigar.com or calling us toll-free at 1-888-70-CIGAR. You can also stop by one of our 4 locations. We enjoy helping our customers find just the right products!