The Top 5 Cigar Lighters Under $25
07/25/2017 at 09:36 am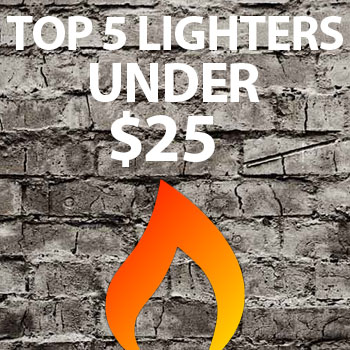 One of the most popular cigar accessories carried in our store are lighters. Here are five of the best cigar lighters available for under $25.
Prometheus TXR Lighter
The Satin Chrome Prometheus TXR Lighter is currently on sale for half off its original price for just $24.98. The single flame lighter measures 2.70" x 1.00" x 0.5". Prometheus is a famous cigar lighter manufacturer that's known for its high quality material and finishes. This particular model features a wind-resistant torch flame and cigar punch-cutter. Overall, the Prometheus TXR Lighter is a great accessory for cigar lovers. The lighter is also available in the color Gun Metal.
Colibri Eclipse Cigar Lighter
We're also selling green Colibri Eclipse Cigar Lighters for only $24.50, which is 50% off its standard retail price. Renowned by cigar lovers around the world, Colibri is known for manufacturing superior products. The Colibri Eclipse Cigar lighter has a single-action ignition switch and wind-resistant jet flame. You can also see the lighter's fuel window and refill it whenever it's low. The lighter comes in multiple metallic colors besides green, including pink, orange and yellow.
Rocky Patel Kamikaze T2 Dual Torch Lighter
Another cigar accessory you should consider is the Rocky Patel Kamikaze T2 Dual Torch Lighter. It comes with a leather case and has a premium polished finish. The Rocky Patel Kamikaze T2 Dual Torch is available in Chrome, Chrome/Black and Gunmetal.
Colibri Interceptor Cigar Lighter
The Colibri Interceptor Cigar Lighter is another quality cigar lighter that's under $25. It boasts a wind-resistant flame and a simple push button ignition system. The butane tank is refillable and includes a two-year warranty and gift box. This lighter comes in the color orange, clear and red.
Vertigo Cutter And Lighter Gift Set
The Vertigo Cutter and Lighter Gift Set is available for $19.95. This perfect gift features a Vertigo Big Daddy Cigar Cutter and Vertigo Black Tie Twin Torch Lighter.
Please feel free to contact us today to learn more about our selection of lighters and other cigar accessories.