Purchasing Cigars Online: Are You Looking For Your First Cigar?
03/27/2015 at 12:40 pm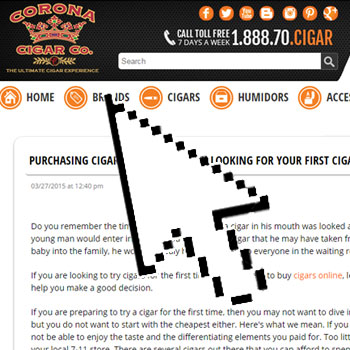 Do you remember the time when a man who had a cigar in his mouth was looked at in high regard? A boy turning into a young man would enter into manhood by lighting a cigar that he may have taken from his father. When a man welcomed a baby into the family, he would proudly hand out cigars to everyone in the waiting room.
If you are looking to try cigars for the first time and you want to buy cigars online, let's go over some tips and advice that will help you make a good decision.
If you are preparing to try a cigar for the first time, then you may not want to dive into the more expensive cigars right away, but you do not want to start with the cheapest either. Here's what we mean. If you start with a higher-priced cigar, you will not be able to enjoy the taste and the differentiating elements you paid for. Too little and you might as well buy a cigar at your local 7-11 store. There are several cigars out there that you can afford to spend money on for your first cigar purchase without breaking the bank.
While price may not be a huge deciding factor when deciding on a cigar, the construction of the cigar and the quality of tobacco are very important. The construction of the cigar will help determine how smooth the draw will be whenever you build up your nerve to finally smoke it.
When you want to determine what kind of construction your cigar has, you can simply roll it between your thumb and your index finger. Make sure your cigar does not have any lumps on it as you roll it between your fingers. You want your cigar to have enough fill in it, so while you are inspecting it, make sure that it does not feel like it is missing any filling or has too many hollow spots.
You also will want to remember that everyone has different tastes and preferences when it comes to smoking cigars. If you want, you can decide to try different cigar varieties in order to find the cigar that you prefer. You can see finding your favorite cigar as finding your favorite drink. We suggest starting with a mild cigar and then working your way up through the various strength profiles.
You probably tested a few drinks out before you decided on a particular brand. After you tried a few different drinks, you finally found one that you knew you could stick with. Choosing your cigar will be like that.
Join a Cigars of the Month Club. For beginners, wouldn't it be great to be able to have a variety of cigars mailed to your home. This gives you an opportunity to try different cigars, and you do not even have to get into your car and go to a store. Each month you will receive a varity of cigars to try. A collection ranging through a variety of wrappers, flavors, nuances from around the world. Contact us today or visit our website.