Our Most Popular Deals on Cigar Five Packs Pt. 1
08/01/2017 at 10:15 am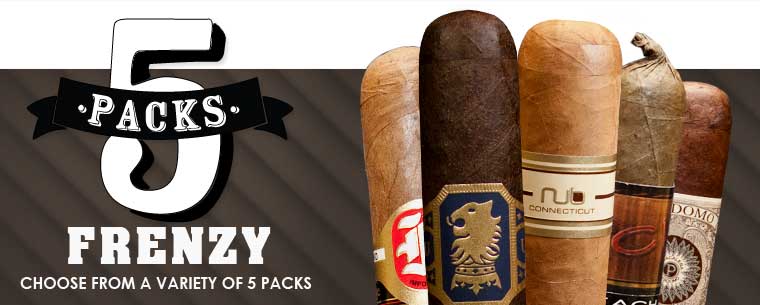 Do you want to smoke a cigar but just can't bring yourself to buy an entire box? The best way to try out multiple bodies, flavors and strengths is to buy a smaller pack of cigars. Not sure where to start? Don't worry, we've got you covered. Here are some of our latest deals on Cigar Five Packs. Hurry now while they are still in stock!
Deal #1:Cain Daytona Cigars 5 Pack
Price: $19.95
Enjoy five Cain Daytona Cigars for 36% off its average retail price. This cigar has tobacco from Nicaragua and a Habano wrapper. The filler is made from Jalapa Valley Ligero. The Cain Daytona Cigars are perfect for when you want a smooth cigar with a medium body.
Deal #2:Gurkha Gold Cigars 5 Pack
Price: $19.95
You can save 47% when you purchase our Gurkha Gold Hologram cigar five pack. The cigar has a mild to medium level strength with a nutty flavor. It is filled with aged Dominican and Colombian tobacco with a Connecticut-seed wrapper.
Deal #3:CAO Brazilia Gol! Cigars 5 Pack
Price: $22.50
The CAO Brazilia Cigar is one of the finest Brazilian wrapped cigars. The cigar has very rich flavors and has Nicaraguan fillers. We are offering this five pack for up to 36% off the average retail price.
To learn more about our five pack cigars, please Contact Us today by email or call our toll-free number 1-888-70-CIGAR. Corona Cigar Co. only sells premium name brand cigars at deeply discounted prices. You can also visit one of our 4 locations in Florida to buy a cigar five packs in person.