Our Most Popular Deals on Cigar Five Packs Part 2
08/08/2017 at 09:22 am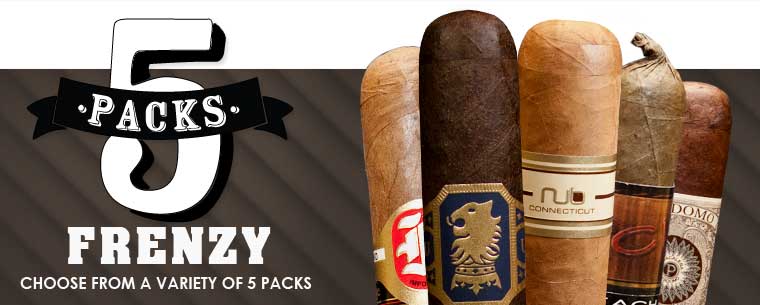 Our previous post shared some of the most popular deals on Cigar Five Packs. If you want to try a variety of cigars, this is a great way to taste different brands at amazing prices. Check out some of our cigar five pack deals below:
Deal #4: Rocky Patel Hercules Mongul 5 Pack
Price: $34.95
Save 22% when you purchase a pack of Rocky Patel Hercules Mongul Cigars. This world-famous brand is perfect if you enjoy spicy cigars packed with flavor. The cigar manufacturer only produces Rocky Patel in limited runs, so when you get your hands on one of these rare cigars, you won't forget it! The handmade cigars are rolled in Nicaragua using Ecuadorian wrapping paper. The thick ring-gauged cigars have double Nicaraguan Cuban-seed binders. The cigar is filled with a mix of tobacco from Nicaragua. The Rocky Patel Hercules Mongolia cigars have a medium body strength and delicious nutmeg, wood, cocoa and leather flavor.
Deal #5: La Aurora Preferido Maduro 5 Pack
Price: $29.95
If you enjoy La Aurora Preferido Maduro Cigars you should stock up on this hot deal! We're offering a five pack of these cigars for up to 59% off its original price. La Aurora has manufactured cigars for over a century and is considered one of the world's best cigars. The La Aurora Preferido Maduro cigar is produced in the Dominican Republic. The medium strength cigar features wrappers from Cameroon with Dominican long-filler tobaccos inside.
Deal #6: House Resolution Cigars 5 Pack
Price: $29.95
Who can turn down a deal on House Resolution Cigars? Our five pack allows you to save 33% off the retail price. House Resolution cigars are handmade in Nicaragua and have a very rich flavor. You can also recognize a slight taste of leather and nutmeg when you smoke it. The cigar has a medium body blend and has long-filler tobacco from Nicaragua with Cuban seeds. This House Resolution cigar features wrappers from San Andres Maduro.
Do you want to order some of our cigar five packs? Call us toll-free at 1-888-70-CIGAR or contact us today for more information. One of our team members can talk with you about our cigars and help you select the right five pack for your taste buds. Corona Cigar Co. only offers the best cigars at unbeatable prices.