Great Cigars That Don't Mask Their Flavor
12/27/2016 at 09:49 am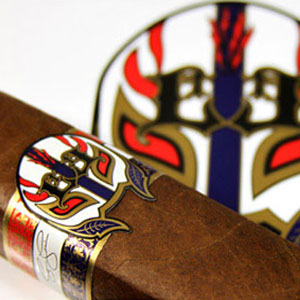 Thanks to the movie Nacho Libre and the cartoon Mucha Lucha, even people who aren't wrestling fans know about the Mexican Lucha Libre wrestlers called Luchadores.
A Luchador is a wrestler wearing a colorful mask who makes high-flying moves in the ring. Many of those moves have been adopted by wrestlers in the US and Canada.
Sam Leccia is such fan of Lucha Libre and the Luchadores that he launched the Luchador line of cigars in 2014. Now the line includes Leccia Luchador El Gringo cigars. The El Gringo line is a mix of six tobaccos in a Nicaraguan Oscuro wrapper and a Nicaraguan Habano binder. They are medium-to-full bodied cigars with notes of dark cocoa, toasted almond, and hints of peppery spices.
The Leccia Luchador El Gringo Squared Circle is a 6 1/2 x 64 cigar that is pyramid square pressed. The name refers to the fact that a boxing ring is now square. Before ropes enclosed the fighters, the wrestlers were surrounded by a "ring" of people.
Leccia Luchador El Gringo Pile Driver cigars are named after a wrestling move where the wrestler grabs his opponent, turns him upside-down, and drops into a sitting or kneeling position, driving the opponent head-first into the mat.
Leccia Luchador El Gringo Frog Splash cigars take their name from a wrestling move too. This move is performed by leaping from the top rope, stretching out to a horizontal position, and bringing your feet and hands inward and outward before landing. It was created by the Luchador La Fiera in the '80s and is still used in professional wrestling today.
The ring on the Leccia Luchador El Gringo cigars is designed to look like a Luchador mask, but they certainly don't mask their complex flavor. Contact Us for more information on the Leccia Luchador El Gringo line of cigars or any other fine cigar available at Corona Cigar Company.