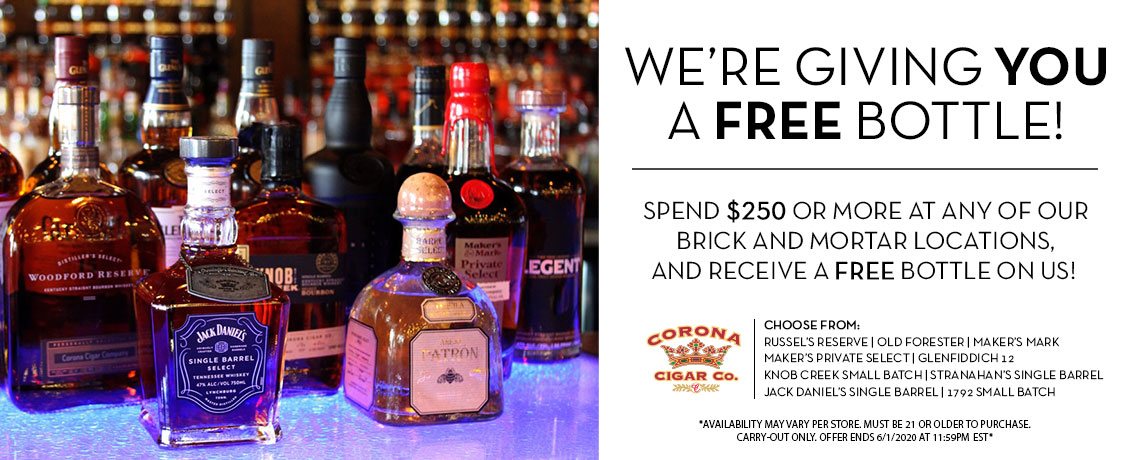 GET YOUR FREE BOTTLE WHEN YOU SPEND $250+ AT CORONA CIGAR CO.
Stop by any of our brick & mortar retail locations (Sand Lake, Lake Mary, Downtown Orlando, or Tampa) and get a FREE bottle of whisky when you spend $250 or more in-store! Must be 21 or older to purchase.
Choose from: Knob Creek Single Barrel, Russel's Reserve, Old Forester, Maker's Mark, Maker's Private Select, Glenfiddich 12, Knob Creek Small Batch, Stranahan's Single Barrel, Jack Daniel's Single Barrel, and 1792 Small Batch.
*Offer ends June 1, 2020 at 11:59PM EST*
*Valid with cigar purchases only & cannot be combined with any other offers or promotions*
*Must be 21 or older to purchase*
*Bottle availability may vary between stores*
*In-store only*
*Carry-out only*