Clearance Cigars for CoronaCigar.com
02/25/2020 at 10:06 am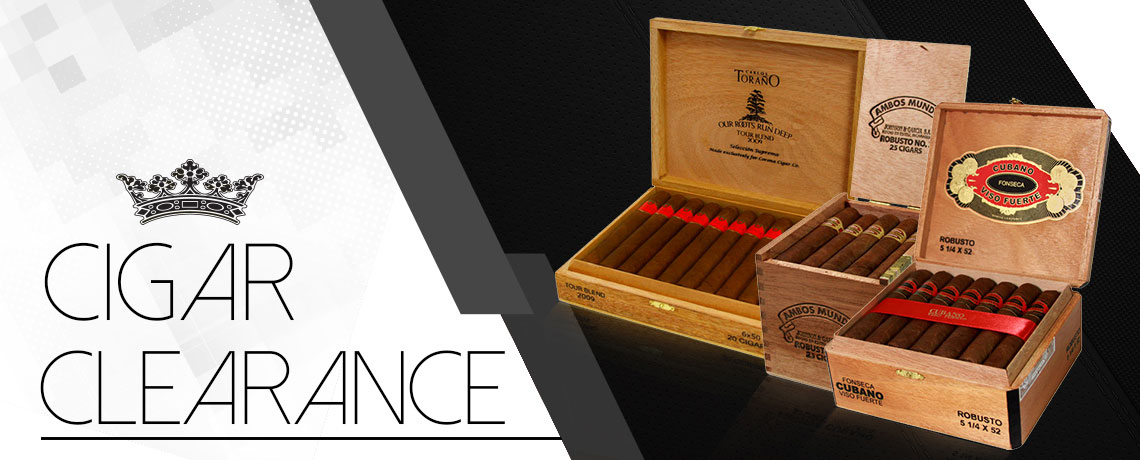 Decisions, decisions
You could spend an entire lifetime smoking cigars and never put a dent in trying all of them. With such variety, origins, and different types from toros and torpedos, to perfectos and parejos, each cigar provides a different experience. Aside from the sheer number of varieties and brands out there to try and enjoy, one factor that initiates to cigars find as an obstacle to smoking is often the price. The cost of cigars can be prohibitive unless you are willing to settle for substandard sticks or brands you never heard of, and after trying them, almost wish you never did. Once you find a stick you love, there's always that risk you take at not being able to find it again once they are gone.
Order clearance cigars online
Corona Cigar has the solution for you whenever you buy clearance from our site. Not the bargain bin of misshapen, moldy, or crumbling cigars you might find at your local smoke shop, these cigars are the quality brands you know and love. They are priced to move because we appreciate our customers and want to keep only the freshest sticks in stock. When you buy in bulk you can spread your enjoyment for your favorite brand at your next get together of fellow tobacco connoisseurs. At unheard of prices, you can find brands such as these:
Punch
Villiger Connecticut Kreme
Gurkha--including the rich and flavorful 125th Anniversary
Debonaire Daybreak
Romeo y Julieta
All Out Kings
Cigars aren't the only clearance items you will find either. S.T. Dupont jet lighters are currently available. There is nothing like a good jet lighter to get fired up without contaminating the flavor with the taste of fuel.
Or give the gift of a Grab Bag Sampler. It is a good place to start for someone just starting out, who hasn't yet discovered their favorite type, flavor, or region yet. It makes a perfect gift and brings a little variety to the table as well--all for a nice price!
Savings you will love
Many of these are quality sticks you have probably tried and didn't want to break the bank because you enjoyed them so much. With 10-25% off boxes, you can fill your humidors and keep a supply around for as long as you want. Or as long as you can hold off enjoying them. These offers are "while supplies last" and new brands are coming in all the time.
Order yours before someone else gets the last box, because you won't see prices like these anywhere else.
The Corona Cigar Difference
Contact us to find the sticks you love the most. Go beyond what small cigar shops have to offer and discover quality and variety for yourself. Order some today before they are gone.