Cigars of the Month Club: Carefully Curated Gifts He's Sure to Love!
09/28/2017 at 09:43 am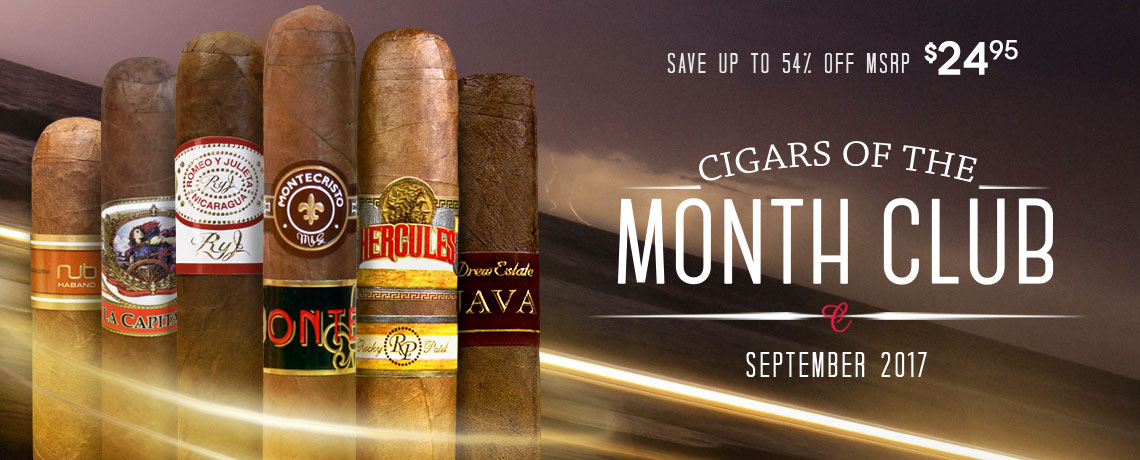 The holidays are quickly approaching and you're excited to give the cigar enthusiast in your life a gift he's sure to love: an assortment of premium hand-rolled cigars, of course!
But where to begin? He's the enthusiast after all, and he knows so much about industry trends and leading products that it seems impossible for you to find just the right gift. For someone unfamiliar with the industry it's hard to understand what you're getting when making a buying decision.
What's the difference between Claro and Maduro? Why are some cigars long fill while others are short fill? Are cigars produced in Honduras better than those made in Nicaragua? What's the deal with all the different sizes and shapes?
That's where we come in. We're among the world's leading experts in the premium cigar trade and we pride ourselves on knowing not only what our customers will love, but also in knowing how to provide the most exciting and innovative cigars for the best value in the industry.
So by taking advantage of our popular "Cigars of the Month Club" you'll receive the benefit of our decades of experience and expert insider knowledge to give the gift he's sure to love- the gift that keeps on giving!
Each month your loved one will receive a hand selected assortment of premium cigars carefully curated by our industry experts guaranteed to delight the recipient while saving you a bundle. Yeah, that's right- you'll pay just $24.99 (+ shipping) for each monthly shipment valued at over $40.
And the savings don't stop there. Join our Cigars of the Month Club and you'll receive a premium torch lighter- absolutely FREE! But best of all, our Cigars of the Month Club members always enjoy a whopping 10% off all future orders- so there is no limit to how much you can save.
Join our premium Cigars of the Month Club and you can rest easy knowing that you'll be giving the gift of the ultimate cigar experience each and every month- without breaking your budget. Contact Us if you have any additional questions about our Cigars of the Month Club.