Cigar Five Packs: for the Cigar-Lover on a Budget
11/30/2017 at 08:48 am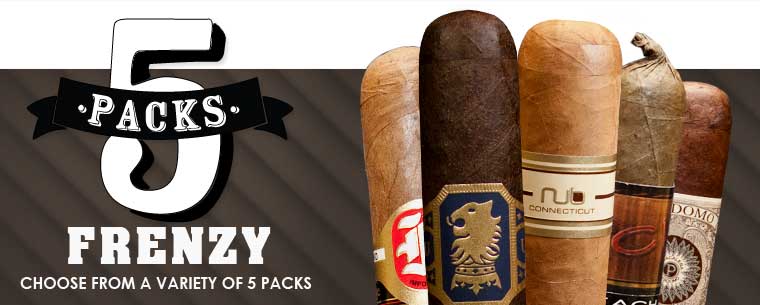 We know that even the greatest cigar lover has those moments when their budget can't keep up with their love for cigars. When these times come, the solution is actually quite simple: cigar five packs. Our five packs are a great way to get your hands on your favorite cigars without breaking the bank. Below, we have highlighted some of the options available to you with our cigar five packs.
The innovation behind the Nub is that all cigars have a sweet spot around 3 ½ to 4 inches. Comparing the length to ring size of this cigar one might mistake the Nub for being a quick smoke but in fact these cigars pack the same amount of tobacco you would normally find in a Churchill or Double Corona. Don't miss out on your chance to pick up a pack of these delicious beauties!
Another great five pack option is the Gurkha Gold Hologram. These cigars feature a carefully selected blend of aged Dominican and Colombian long filler tobaccos. If you like cigars with a nutty flavor with just a hint of cedar, these are the cigars for you.
The Natural Dirt Torpedo gets its name from the black soil of Pueblo Nuevo where the Maduro leaf it features is grown and cured. This straightforward cigar has a wide appeal and is a perfect addition to any cigar-lovers collection.
If you are interested in our Cigar Five Packs or if you have any questions about any of the other cigars we offer, please be sure to contact us today. We look forward to hearing from you soon!