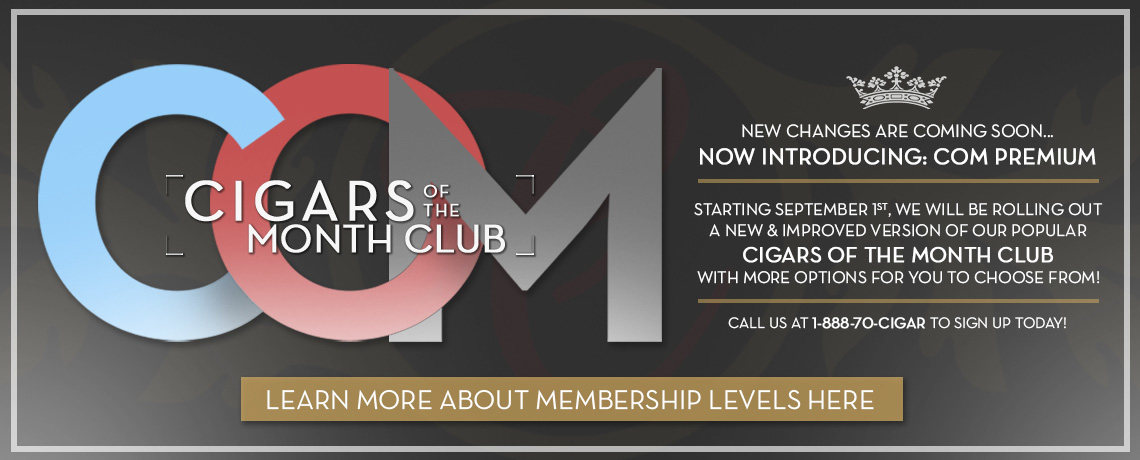 Cigars of the Month 2020 Update
Starting September 1,2020 - We will be rolling out a new & improved version of our popular Cigars of the Month Club with more options for you to choose from! We made some changes to our current Cigars of the Month and have added an additional package to choose from called "COM Premium" which features 5 premium cigars + you'll automatically receive 10% off all future orders online or in-store. If you aren't already a part of the COM Club at Corona Cigar Co., then you have to join today! We have the best Cigars of the Month Club around!
The 2 Levels of COM Available Are:
COM ($24.95 + $7.95 Shipping)
Includes: 6 assorted cigars + Members will receive 10% OFF purchases of that month's Cigars of the month selection (discount provided as a code located inside of your pamphlet)
COM PREMIUM ($49.95 + $7.95 Shipping)
Includes: 5 Premium Assorted Cigars + Members will receive 10% OFF Store-wide! (discount is automatically activated on your account)
---
**All Current C.O.M. Members as of August 31, 2020 will receive FREE SHIPPING on C.O.M. until the end of the year (Dec. 31, 2020). 3 -Month signups will be charged monthly. Auto-renew billing will be charged on the 1st - 3rd of each month. Discounts are valid from the 1st of the month until the end of that month. Must call in to sign up for all C.O.M. Memberships.**
Call us at 1-888-70-CIGAR to sign up today!