Buy Cigars Online, Avoid Brouhaha
10/07/2014 at 14:12 pm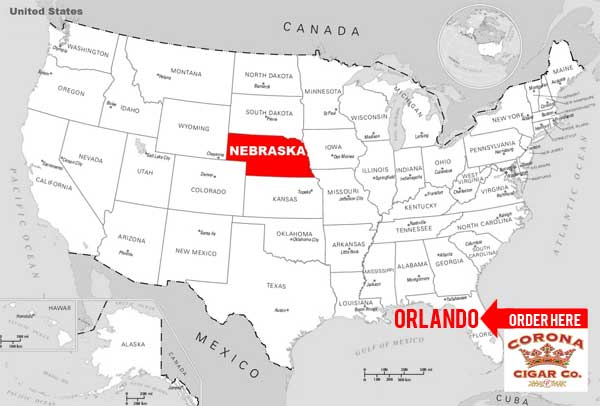 Maybe you have heard that the Nebraska Supreme Court recently decided that exemptions allowing cigar bars to operate were unconstitutional? Nebraska, like many states, has an indoor smoking ban, but exemptions were provided for "tobacco only retail-outlets."
No more. In the state of Nebraska there will soon be no more smoking indoors anywhere, even cigar bars. For a summary of the case, click here.
Jaz Schoeneck, a blogger at the Daily Nebraskan, an independent student newspaper at the University of Nebraska-Lincoln, has an apt post on the ruling, saying:
Imagine if you went to a coffee shop and you weren't allowed to drink the coffee inside.
The extreme situation in Nebraska stems from a public policy to protect the health of everyday citizens. The unintended result of prohibiting indoor smoking anywhere is that it may lead to more folks smoking outside, which will in turn lead to second-hand smoke, exactly what the purveyors of health are trying to avoid.
If you're concerned about these types of issues and how they could take effect where you live, you may want to look into Cigar Rights of America, a grassroots organization with a mission committed to
protecting the rights of the growers, manufacturers, retailers, and consumers of premium cigars. In an effort to combat the threats to producing, selling, and enjoying premium cigars, CRA serves as a voice at each level of government and with the public at-large on issues of significance to the industry as a whole, and the cigar consumers of America, specifically.
Perhaps the words of Abe Lincoln say it best:
It has been my experience that folks who have no vices have very few virtues.
To find out more about CRA, you can find them on Facebook, Twitter and YouTube.
And while all the mêlée plays out in Nebraska, you can still buy our cigars online. Check out our extensive collection and have them shipped directly to your home with free shipping for a limited time on all orders over $50.