Accessorize Your Cigar Lifestyle
03/22/2018 at 09:01 am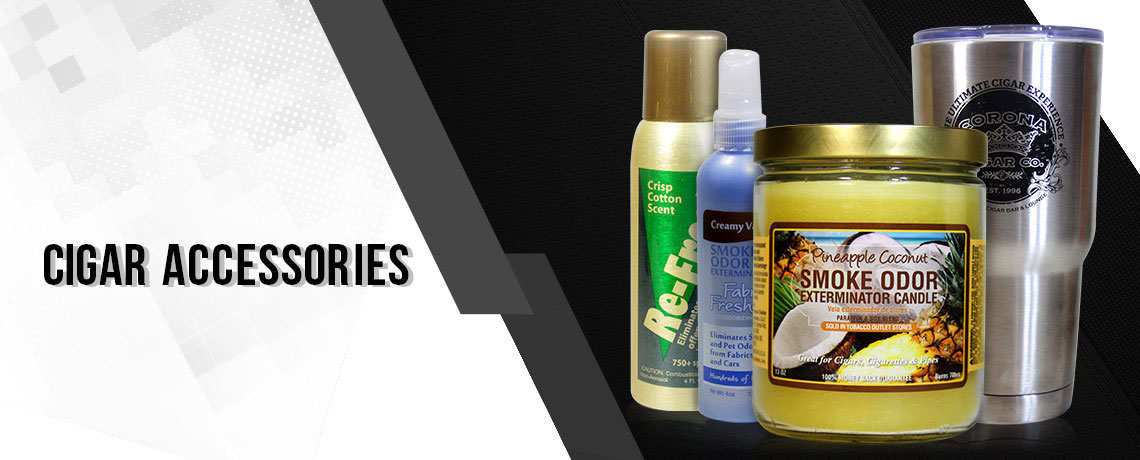 If cigar smoking is part of your lifestyle, you will want the perfect accessories to create the most relaxing experience. Corona Cigar Co. has a grand selection of humidors, ashtrays and other fine accessories. Where you enjoy your daily cylinder of tobacco determines what type of accessories best benefits you and your cigar lifestyle.
If you have a room that has been designated as your smoking area, you may want to select one of our ashtrays that works with that room's décor. Whether you want plain and practical or ornate and eye-catching, we have an assortment of ashtrays to accessorize that favorite domain. The Corona Cigar Stinky Ashtray is a great ashtray and mini-trash can. You can toss your cigar cellophane right into the bowl. Use this ashtray outdoors without any worry of your ashes and trash being blown around by the wind. Whenever you and a few friends want to sit outside and enjoy some great cigars from our vast selection, you will not need to empty this ashtray. A Cigar Minder Clip is also very useful outdoors. It will securely hold your cigar from any wind gusts or accidental knocks.
Maybe you have a smoking hot, game room, and your friends love coming over to enjoy some of Corona Cigar Company's finest cigars. Add one our handsomely designed humidors, such as the Othello 100ct Humidor, to safely store your cigars. We have some awesome ashtrays to place around your hangout. The Crystal Tobacco Leaf Ashtray will add a touch of class. Make sure you have at least one cigar cutter to make your recreation hangout the perfect cigar bar. Our Corona Cigar Co. Black Guillotine Cutter is a great choice. We also have a nice selection of odor eliminators for your breath, your clothes and the air.
For our customers who are avid collectors, we have the limited edition Fuente Fuente Opus X 20 Year Ashtray in black and white. Be sure to purchase one while you can. The Prometheus Ultimo Forbidden Opus X Lighter would nicely compliment the white, limited edition ashtray.
An on-the-go, practical ashtray is the Xikar Ash Can. It's a great way to conceal your ashes and also contain those musty, cigar smells with its screw on lid. It's small enough to fit in your car's cup holder. If you're a boater, you will love using one of these out on deck, especially when it's windy. The ikar Ash Can also comes in black leather to add that bit of class with a touch of softness. This is an accessory you will want to pack for trips. Don't forget to pack a cigar case and a cigar cutter to make all of your trips complete.
It is our pleasure to serve you, and we are happy to help you accessorize your cigar experience and replenish your cigar supply. We are available seven days a week when you need to contact us. Corona Cigar Co. would like to be your favorite, online shop for all of your cigar lifestyle purchases.