4 Cigar Five Packs under $20
02/01/2018 at 09:42 am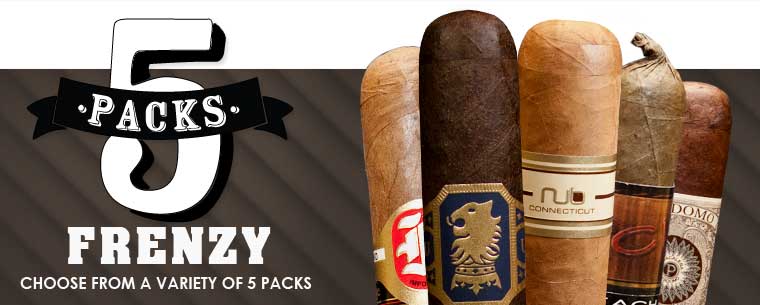 We work hard every day to provide brand name cigars at rock bottom prices. Here are some of the latest deals on five pack cigars we're offering our loyal customers.
Cigar Five Pack #1: CAO Gold Natural Cigars
Hailed as one of the best cigars by Cigar Aficianado Magazine, the CAO Gold Cigar is one of our most cigars. You can get this popular five pack today for under $20. The cigars have a mild strength and are handmade in Nicaraguan. If you enjoy home grown Nicaraguan tobacco, Cuban long-fillers and a Ecuadorian Connecticut shade-seed wrapper, you should give CAO Gold cigars a try.
Cigar Five Pack #2: Gurkha Gold Cigars
We're also having an amazing sale on Gurkha Gold Cigars. Enjoy 47% off its usual price when you buy it today. Gurkha Gold cigars are a premium brand with aged Dominican and Colombian tobaccos. Each cigar has a deliciously nutty flavor.
Cigar Five Pack #3: NUB Habano 460 Cigars
The Nub Habano 460 is another popular Five Pack available at Corona Cigar Co. This rich, full-bodied cigar uses a Habano wrapper and binders/fillers from Nicaragua.
Cigar Five Pack #4: NUB Maduro 460 Cigars
This medium to full-bodied cigar is another Five Pack you should consider giving a try. The Nub Maduro 460 cigar has a fuller body than the Nub Habano 460 cigar and is also available for under $20.
Do you want to learn more about our selection of affordable five pack cigars? Just Contact Us online or call us toll free at 1-888-70-CIGAR and of our dedicated team members and cigar experts would be happy to help you.