3 Great Accessories For Hiding Cigar Odor
08/15/2017 at 09:32 am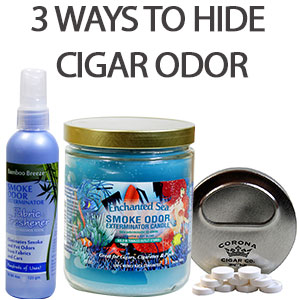 If your partner or family don't enjoy the smell of cigar smoke, don't worry! There are plenty of things you can do to mask the odor in your house and make your breath smell great. Check out some of our best Cigar Accessories for hiding cigar odor.
Corona Cigar Breath Mints - $3.95
Keep your breath smelling fresh and minty with our Corona Cigar Breath Mints. The mints are now on sale for just $3.95. That's a small price to pay for great smelling breath that will keep your partner coming back for more.
Smoke Odor Exterminator Fabric Freshner - $5.95
The Smoke Odor Exterminator Fabric Freshner can eliminate the smell of cigar smoke from furniture and other hOuse hold items. Just use the spray immediately after you enjoy one of our cigars. Besides getting rid of cigar smoke, the Smoke Odor Exterminator Fabric Freshener can also remove pet odors. The fabric freshener is safe for use on your bedding, clothing and shoes. The spray's specially formulated enzyme products helps it get rid of odors. The 4 oz spray bottle comes in a variety of scents, including: Bamboo Breeze, Orange Lemon, Mulberry & Spice, Lavender, Clothesline Fresh and Vanilla.
Smoke Odor Exterminator Candle - $9.95
Our Smoke Odor Exterminator Candles can mask any cigar odor, including ones caused by your pet. The candle has an enzyme that eliminates foul odors and releases a refreshing fragrance. The 13 oz candle can burn up to 70 hours and comes in many scents, like Enchanted Sea, Sandalwood, and Apple Pumpkin.
Please contact us today for more information about our cigar accessories. At Corona Cigar, we only offer the best cigars and accessories to aficionados around the world.